Accelerating Entrepreneurial Success (Video) with John Bowen
Join John Bowen, co-founder of Accelerating Entrepreneurial Success, as he explores the secrets of success of some of the worlds leading entrepreneurs. Their sage insights and bold ideas will give you new strategies and inspiration for fast-tracking your own success. If you want to grow your business, build your personal wealth, serve your clients well and improve your quality of life by doing well by all stakeholders, this is the show for you.
Related Podcasts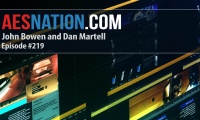 Dan Martell offers today's business owners a fresh approach to fund-raising strategy. Watch the interview above for a front row seat into mindset behind the greatest "Growth Stacking (not Hacking) Show" on earth.
Structuring how and when businesses deploy their core marketing message is essential for successful fund-raising campaigns. Software as a Service (SaaS) business models are no exception—in fact SaaS businesses often have an especially difficult time with this. To thrive in today's ever-growing, over-saturated, (and often over-hyped) online marketplace it takes savvy forethought and extremely flexible execution.