Accelerating Entrepreneurial Success (Video) with John Bowen
Join John Bowen, co-founder of Accelerating Entrepreneurial Success, as he explores the secrets of success of some of the worlds leading entrepreneurs. Their sage insights and bold ideas will give you new strategies and inspiration for fast-tracking your own success. If you want to grow your business, build your personal wealth, serve your clients well and improve your quality of life by doing well by all stakeholders, this is the show for you.
Related Podcasts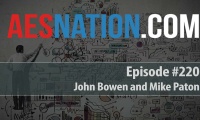 As award-winning speaker and Chief Visionary Expert for EOS Worldwide, Mike Paton is taking on the holistic approach of conducting effective operating systems for small businesses.
The EOS Model™ provides six fundamental components visually illustrating how to manage any business. In this short podcast, Mike divulges these six key drivers and how they will strengthen and simplify the vision of your company.