3 Things I Should Know with Paul Bass
The best thing about truth is - it's TRUE. Each week, I bring you 3 basic points of light and insight from innovative thinkers from around the world. Faith, Health, Culture, Politics - they are ALL spiritual... And much can be learned by following after His Way. Yahweh Elohim sent His instructions and His own flesh to teach us. He does not desire that His children walk around aimlessly. Let's keep learning together. We will help separate faith from fiction as we unravel popular myths and misconceptions in culture today.
Join host, Paul Bass, and his guest Sally Fallon of the Weston A. Price Foundation. What are the three elements of a healthy diet? They may surprise you. Why is America so sickly? How do we know that what we are reading is legit?
History. Look at the healthiest people groups and study what they ate/eat. Weston A. Price did just that. He discovered the secrets to long life. They are simple. The creator knew what He was doing when he gave us food from the earth. We have often complicated it.
This is a pleasant discussion with someone who has worked for many years to spread the word about good foods.
Make sure you visit the website
westonaprice.org
and head over to Montgomery in November for the annual conference.
This episode was brought to you by Schoolhouse Teachers -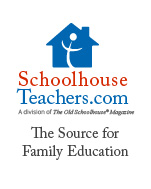 Basically The Deal is part of the Homeschool Highways Network.