There is an undeniable truth in the podcasting world: a podcast's audio quality is a direct result of the production process and all of the variables it holds. Mixers, boom stands, and soundproofing can sometimes be overlooked when it comes to podcasting equipment. This is not a professional-centric concept, and in fact, applies to beginners just as much as pros. While this stands true on every level of podcast creation, there are specific nuances differentiating the production of a beginner from that of a professional.
Where a beginner podcaster is stabilizing themselves in their preferred recording software and seeking out the most optimal microphones, a professional may be looking beyond the basics. Thus, it's likely that if you're interested in refining your podcasts production process beyond base-line equipment and software, you're most probably a somewhat solidified podcaster.
It's never too early to begin contemplating and subsequently investing in equipment which will increase your podcasts standard. However, mixers, boom stands, and soundproofing are trademarks of a professional podcasting studio. Below, we will outline some of the top-tier podcasting equipment for audio refinement, as well as some background information on why each aspect is a valuable production investment.
Best Mixers
Amongst other things, adding a mixer into your process can support you in subtly modifying your host's voices whilst recording. Many podcasters opt to invest in an audio mixer specifically for this greater management of their individual recording tracks. Additionally, mixers enable the podcaster to mix sounds into their recording directly, as well as monitor and adjust volume, static, popping, and other such elements.
While it's certainly not required to utilize a sound mixer in your production, especially if you've already integrated a quality microphone, mixers do add an even greater element of control. In turn, creating better end results and lessening the editing load.
The following, is a list of 5 quality mixers for podcasters, in addition to their respective prices and capabilities.
Mackie ProFX8 v2
Price: Third-party sales only, typically under $200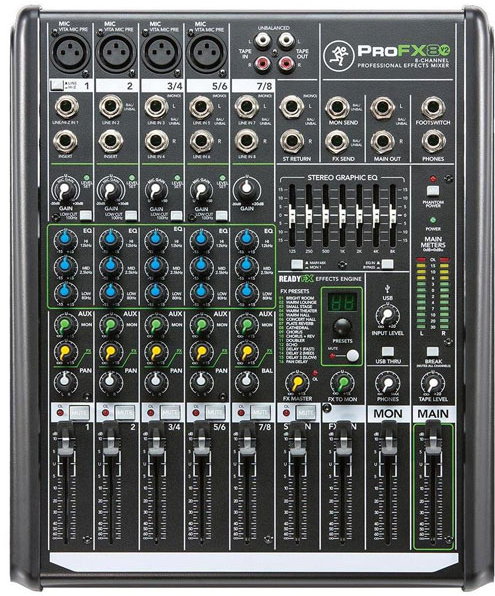 Features:
8 channel mixer, 3 bus outputs
4 low-noise, high headroom mic preamps
Built-in USB input/output
Complimentary effects, including reverb
Compatible with Windows and Mac
Samson MXP124FX
Price: $159.99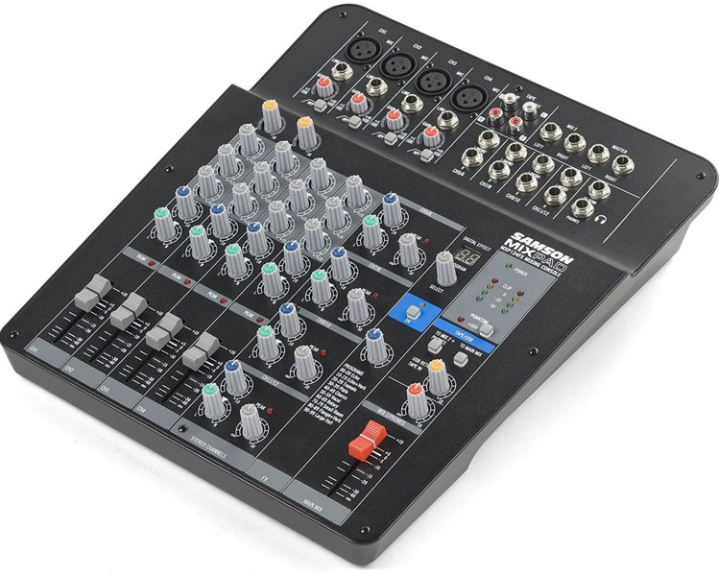 Features:
12 channel mixer with 4 mic preamps
Dual single knob compressors
USB compatibility
100 Built-in effects
3 Band EQ
Behringer XENYX Q802USB
Price: $199.99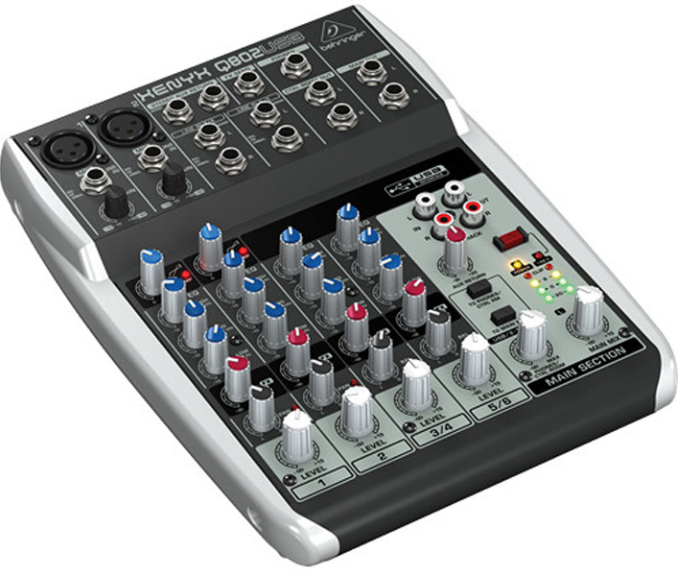 Features:
Low noise, high headroom 8 channel mixer
2 bus outputs, 2 mic preamps, USB input/output
one-knob compressors for first 2 channels
3 Band EQ
Compatible with Windows and Mac
3 Year Warranty
Complimentary Behringer recording and editing software
Yamaha MG10XU
Price: $259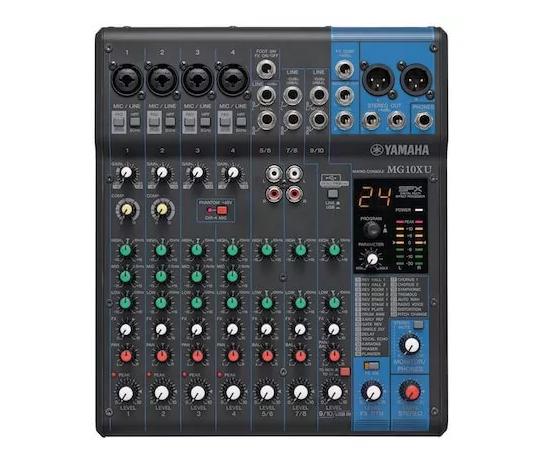 Features:
10 channel mixer with D-Pre mic preamps
3 Band EQ
Built-in knob compressors
Optional USB interface upgrade comes with 24 complementary effects
Rodecaster Pro
Price: Starts at $599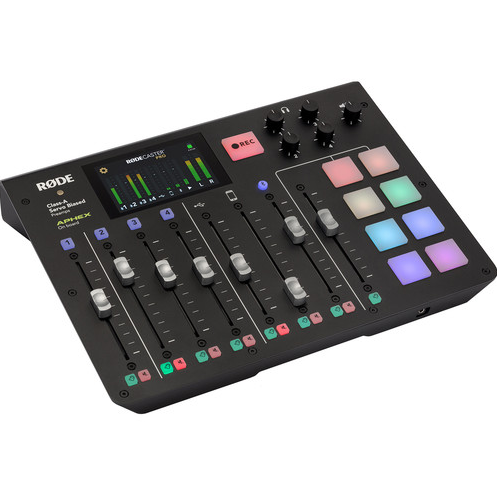 Features:
Standalone mixing unit designed specifically for podcasts
4 headphone inputs, 4 XLR inputs
Built-in memory
Automatic compression
Bluetooth capabilities, compatible with Mac, PC, and smartphones.
Seamless in-unit FX integration, with 8 sound pads
Best Boom Stands
Another valuable addition to a professional podcasters' production process is a boom stand. While a beginner may find a handheld mic or a mics complimentary tabletop stand, sufficient, a professional podcaster often requires more. Especially with the introduction of other equipment inside the recording space, which mixers are a relevant example of, a proper mic stand becomes an essential resource.
Most popularly, boom arms, which can attach to any tabletop surface via grip, are a common tool in a podcaster toolbox. Not only do they clear space, keeping your recording environment organized, but they also enable greater comfort and a more manageable microphone technique. Quality boom stands result in clearer audio, cleaner surroundings, and more satisfactory recording experience for the podcasters.
The following are five of the best boom stands available for podcasters:
Mudder
Price: $12.99 on Amazon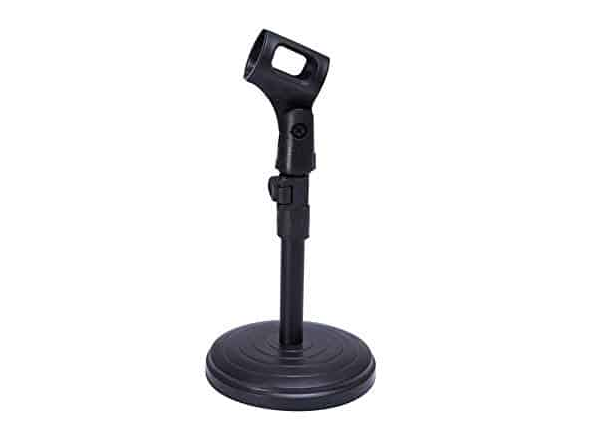 Features:
Desktop mic stand with foldable design
Designed with 180-degree adjustable mic clip and a heavy base for stability
Neewer NW-35
Price: Available through third party sites, typically between $15 – $25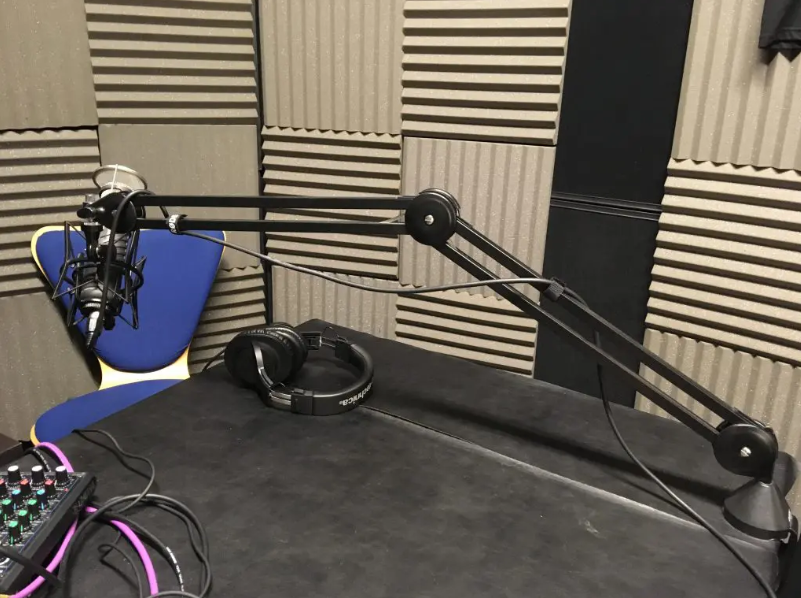 Features:
The unit comes with built-in XLR cable and shock mount
Steel design, with C clamp mount
Can sustain a weight of up to 3.3 pounds (not suitable for Blue Yeti mic)
Rode PSA1
Price: Available through third party sites, typically between $85 – $100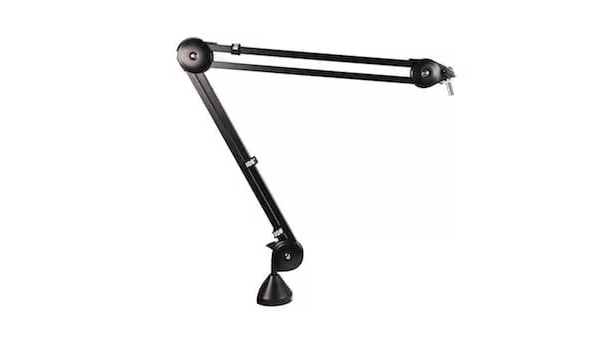 Features:
The unit has double axis swivel capabilities, with a 33 inch vertical and 32.5-inch horizontal reach.
360-degree rotation range.
Designed with internal springs
It comes with dual mounting options – clamp and flush.
Cables are exposed and external, but the unit comes with velcro cable wraps for greater management.
3/8-inch thread adapter but comes with a standard 5 /8 microphone adapter
It can sustain a weight of up to 2.4 lbs between the microphone and shock mount.
Blue Compass
Price: $99 on Amazon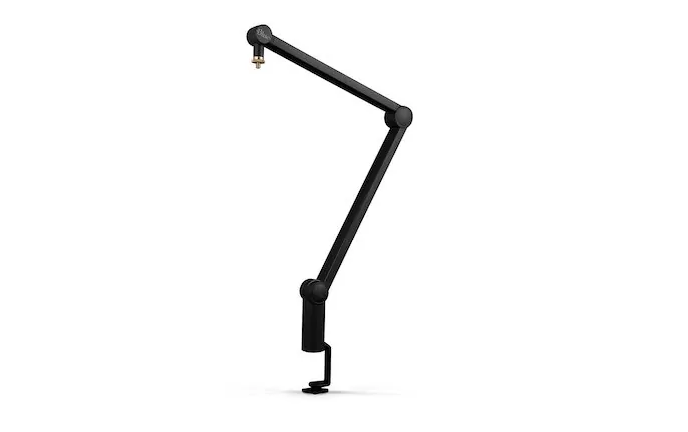 Features:
360 rotation with hand tightened hinges and a 32-inch horizontal reach
Designed for the Blue Yeti mic, but is compatible with other mics and any standard shock mounts up to 2.4 lbs
3 /8 and 5 /8 microphone adaptor
Internal cable threading design with internal springs
Standard C clamp mount with permanent mounting capability
Heil PL-2T
Price: $109 on Amazon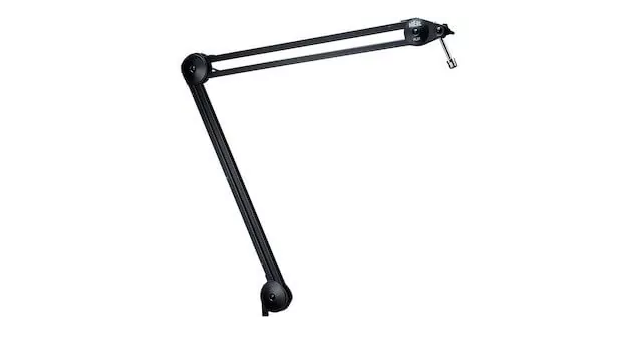 Features:
20-inch boom segments, with 360-degree unit rotation.
Removable plates simplify cable threading.
Seamless design with hidden internal springs.
5/8-inch microphone attachment
It comes with a standard C clamp mount but is compatible with other Heil mounting accessories.
Capable of holding heavyweight equipment.
Sound Proofing
In addition to the equipment we've discussed so far, podcasters may also want to consider soundproofing. Soundproofing a studio is not a necessary task and can run a budget dry very quickly, but any professional podcaster knows it's importance. All of the minute tweaks to your recording environment add up to make a huge difference, from your microphone to the mixer you use to the amount of sound reverberating off of and through your walls. Soundproofing is an effective way to reduce background noise, echoes, unnecessary static, and ultimately improve the acoustics of your audio.
If you decide soundproofing is a precaution you'd like to take, there are some considerations to keep in mind, with the first being the location of your studio. It's not optimal to have to soundproof an incredibly spacious room, nor is it prime to choose a space with high ceilings or floorboards. Firstly, because the cost of soundproofing is going to be greatly increased in a massive room, whether you are merely covering the walls with fabric or you're going to greater lengths. But additionally, you have to consider that soundproofing is done to minimize the sound waves in a room. If you stick yourself in a large room, with a large area for soundwaves to cover before being absorbed, you're likely defeating the purpose of soundproofing altogether. Once you've chosen your location, you will next have to consider which surfaces you're going to soundproof to gain a better understanding of which materials you should seek out. Above all else, soundproofing is most effective when covering hard surfaces. Take a look at your room of choice, and examine which hard surfaces exist, such as hardwood floors, drywall, ceiling or desk surfaces, etc.
Surfaces can be soundproofed in a plethora of ways, depending on your own individual needs and preferences. Whether you simply want to top a hard floor with a rug, or you want to take a more ambitious route and install carpet, it is up to you. Whether you want to hang a tapestry on your wall, or you want to install 360 foam panels, is up to you. You can take a simplistic route to soundproofing, or there are more permanent and professional options available. One of the most common methods used by podcasters is foam paneling which typically runs $15 – $60 per square foot.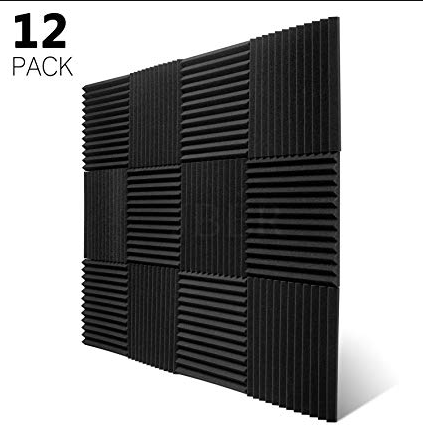 Alternatively, you can consider a new microphone or a modified microphone setup. There are two primary kinds of microphones on the market, with the first being a dynamic mic and the other being a condenser mic. The first pick up audio from a smaller circumference than the latter, which may assist you in crisper audio that has a more soundproofed effect. In a similar fashion, you can create a soundproofed effect with slight tweaks to your microphone setup. There are tools available such as the Neewer NW5 Portable Sound Panel, which surrounds your microphone alone with foam, but getting creative in your own way can be just as effective.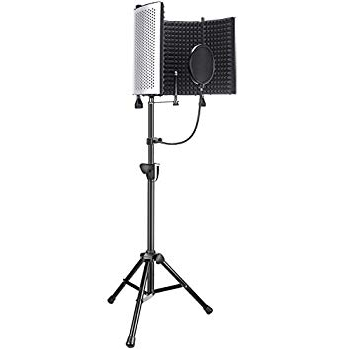 There are many options available for the podcaster who wants to improve their studio standard and audio production as a whole. Each method has its own benefits and their own spin on the audios end results. As a professional podcaster, it's your job to produce high-quality content, and with the support of these tactics, you may find this duty an easier task to accomplish.