Welcome to the world of podcasting, where storytelling meets technology and captivates millions of listeners worldwide. As a podcaster, you understand the importance of reaching your audience and making an impact with your unique voice. That's why we're thrilled to introduce you to Google Podcast Manager – a game-changing platform that will revolutionize the way you create, manage, and grow your podcast.
In this blog post, we'll delve into the essential reasons why every podcaster needs Google Podcast Manager in their arsenal. From gaining valuable insights to reaching new heights of discoverability, get ready to discover how this powerful tool can take your podcast to soar heights of success.
Let's dive in and explore the transformative power of Google Podcast Manager together!
What is GPM?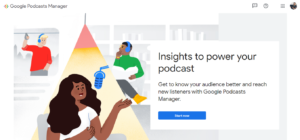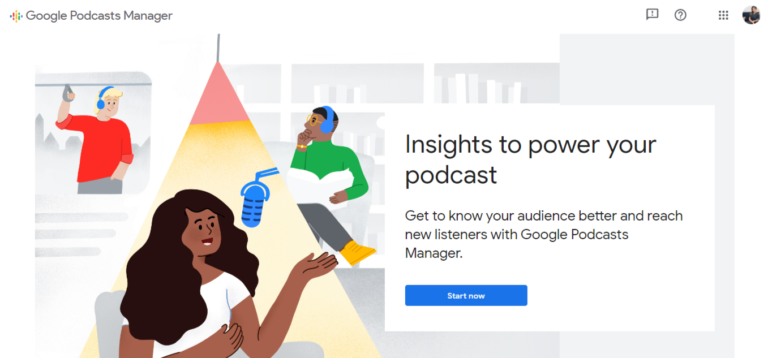 Google Podcasts Manager is just a reflection of your show's data on Google Podcasts, so you cannot manage episodes using Podcasts Manager. Learn how to manage your show and episodes on Google Podcasts.
The purpose of Google Podcasts Manager is to provide podcasters with insights to understand which podcasts do well, how much of the podcast is listened to, and to help Google show the podcasts across a wide range of its services, like Google Search, Google Home and Android for Auto.
What Does Google Podcasts Manager Do?
Google Podcasts Manager provides analytics data related to the popularity of the podcasts with listeners.
Information provided includes:
How many listens each show receives
How many listens does each episode segment receives
Percentage of a podcast that was listened to per show
Key Features and Benefits
Following are the keys and benefits of Google Podcasts Manager:
Seamless Podcast Submission
Google Podcasts Manager simplifies the process of getting your podcast listed on Google Podcasts, one of the largest podcast platforms globally. It ensures that your episodes are discoverable to a vast audience, increasing your chances of reaching new listeners.
Robust Analytics
Understanding your podcast's performance is vital for growth. With Google Podcasts Manager, you gain access to comprehensive analytics, including episode downloads, unique listeners, and listening duration.
These insights help you gauge the impact of your content, identify popular episodes, and adapt your strategy accordingly.
Audience Insights
Dive deeper into your audience with Google Podcasts Manager's demographic data. Discover valuable information such as listener locations, device preferences, and listening platforms.
This knowledge allows you to tailor your content to resonate with your target audience and attract new listeners.
Episode-Level Metrics
Analyzing individual episodes is crucial for understanding what resonates with your audience. Google Podcasts Manager provides episode-level metrics, allowing you to track the performance of each episode.
Identify trends, determine the most engaging content, and refine your podcasting approach to keep your audience hooked.
Optimizing Your Podcast with Google Podcasts Manager
Now let's dive into how you can optimize your podcast with Google Podcasts Manager
SEO and Discoverability
As a podcaster, you want your episodes to be easily discoverable by potential listeners. Google Podcasts Manager optimizes your podcast for search engines, ensuring that it appears in relevant search results and reaches a wider audience.
Leveraging User Feedback
Feedback is invaluable for improving your podcast. Google Podcasts Manager allows listeners to leave reviews and ratings, providing you with insights and constructive criticism. Leverage this feedback to refine your content, strengthen your brand, and foster a loyal community.
Here's how to get started:
Claiming Your Podcast
If you haven't already, the first step is to claim your podcast on Google Podcasts Manager. It's a straightforward process that requires verifying your ownership and associating your podcast's RSS feed with your Google account.
Exploring the Dashboard
Once your podcast is claimed, dive into the dashboard to access all the features and insights Google Podcasts Manager has to offer. Familiarize yourself with the interface and navigate through the various sections, such as analytics, audience insights, and more.
Best Practices for Podcasters
To make the most of Google Podcasts Manager, here are some best practices for podcasters to consider:
Consistently analyze your podcast's performance to identify patterns and trends.
Experiment with episode formats, topics, and guest appearances based on audience preferences.
Encourage listeners to leave ratings and reviews
Conclusion
By harnessing the power of Google Podcasts Manager, you can fine-tune your content, expand your reach, and create meaningful connections with your audience. So, don't miss out on the opportunity to unleash the full potential of your podcast. Embrace Google Podcasts Manager today and take your podcasting journey to the next level. Get ready to captivate, inspire, and make your mark in the vibrant world of podcasting!