Ready to find the best podcast hosting service for your brand?
Currently, podcasting is easily one of the most underutilized tools in the marketing world. According to the team at Edison Research, 32% of Americans now listen to podcasts every month. 
The same research found that nearly four times as many people listen to podcasts each week than watched the finale of Game of Thrones. That's a big deal.
There are many elements involved in starting a successful podcast. You'll need a topic and structure that you can follow religiously. You'll also need some basic recording and editing equipment to get you started. However, the most valuable asset you can have is the right podcast hosting provider.
What is Podcast Hosting?
Podcast hosting is the thing that provides the RSS feed and file hosting for your podcast. Hosting companies typically upload audio files on your behalf, tell hosting platforms about your show, and generate a feed for you.
It's not a complicated thing, but podcast hosting is one of the most valuable tools you can invest in as a marketer. Choose the right host, and you'll give your audience a reliable way to access the content that you create specifically for them. What's more, some of the leading podcasting sites also come with other advanced features too, such as help with your WordPress blog, 24/7 customer service, and even social sharing options.
Crucially, we're not talking about iTunes here – that's a podcasting directory or publishing platform, which is something else entirely. You need a host before you can appear on iTunes and other popular lists.
What are the Benefits of Using a Podcast Host?
You also can't simply host your podcast on your website and run it like you do your blog. Audio files are hefty things that take up a lot of bandwidth. You're going to need a separate host to help you out and hold onto all of that data. While you can still promote and post your podcast on your website, someone else will be responsible for pushing that content through the internet.
Using the right podcast hosting will:
Give you more stability: If you're hosting your podcast on the same environment as your website and something goes wrong with your server, then your entire online presence will suffer. Choosing an external podcast host to manage things for you will give you more stability and peace of mind when marketing your business.
Offer professional features: Many podcasting providers come with access to professional solutions like content management systems and monetization options, so it's easier for you to make the most out of your new content strategy. You can even find podcast hosting providers that provide their own apps for users to download.
Give you great customer support: Never underestimate the benefits of having the right customer support system in place. If something goes wrong, it pays to have a knowledgeable team available to you to help fix the issue.
Limitless bandwidth: Companies like Podcast.com offer unlimited bandwidth, so you don't need to worry about running out of streaming opportunities when your audience begins to grow.
Keep in mind that most podcast hosting companies will also offer to not just host your material, but also support the automatic generation of your RSS feed. Automatic RSS feeds are something you can't afford to overlook when making your decision about the best podcast host. The metadata in an RSS feed is how publishers such as iTunes pick up and display your podcast. 
Setting up your RSS process should be a simple process, but the exact experience you get will depend on the hosting platform you use. Usually, most tools will ask for the same basic information, including your artwork, your name, your byline and a description of your podcast. You may also need to provide information on the category that your podcast belongs to.
Podcast Hosting: How to Choose the Right Provider
So, how do you go ahead and choose a podcast hosting provider?
Good question.
There's no one-size-fits-all option here. Every company has its own specific needs and preferences to think about. Often, the best thing you can do is spend some time researching the top providers and finding out what kind of capabilities they have to offer.
After researching and evaluating a selection of the leading podcast hosting providers on the web today, we've chosen Podcasts.com as our top option. Although there are many other podcast hosting companies out there, few solutions offer the same quality of features for free as Podcasts.com does. Not only is this platform easy-to-use and intuitive, but it also makes your life as a newbie podcast simpler too. 
We'll give you a better rundown of some of the top benefits of podcast hosting with Podcasts.com in a minute. However, to start with, let's take a look at some of the things you can do to evaluate the range of hosting options you might be considering today.
How to Choose Podcast Hosting for Your Brand
Ultimately, you can't afford to underestimate the importance of a good podcast hosting brand right now. Over 12 million people listened to a podcast for the first time in the last year, and the market is growing at an incredible pace.
As customers struggle to find the time and focus to give their attention to videos and long-form articles, podcasts allow you to reach your audience wherever they are. So, how do you choose the podcast hosting service that will let you leverage this marketplace?
Know how much storage you're going to need: This will depend on the length and frequency of your podcasts and will dictate what kind of package you're looking for.
Decide if you need a WordPress Site: If you're aligning your podcasting strategy with other content creation campaigns, a podcast hosting service that offers WordPress support will come in handy.
Consider your demand for analytics: Any brand that wants to invest in ongoing growth will need to think about analytics. The more statistics and insights you gain into your listeners and target audience, the easier it is to tailor your podcast to suit them.
Choose your budget: While price isn't the most important factor in picking a podcast host, you will need to make sure that you can afford to stick with the service. Know your budget before you start your search.
Decide if you want dynamic advertisements: If you plan on adding advertisements and sponsorships to your podcasts for monetization, you'll need a podcast hosting provider that can accommodate that.
Know your uptime guarantees: You need your podcast hosting service to be as reliable as possible, so don't forget to check your uptime guarantees. Look for a provider that has plenty of data centers spread around the world.
Make sure the host has plenty of features: Look for things like media validation, no-fault overages, ID3 tagging, iTunes optimization, and anything else that appeals to your business.
You may also need to consider whether your podcast host can support other forms of content like video too. Some people decide to post video versions of their podcast alongside the audio versions for people who want a more immersive "behind the scenes" experience.
Why Podcasts.com is the Best Podcast Hosting Service

Now that you know how to assess the positives and negatives of each podcast hosting service available to your brand, let's take a look at why we consider Podcasts.com to be the number one choice for any brand. 
First and foremost, it's worth noting that this platform is 100% free to use. That means that if you're not sure about using podcasting as your next marketing strategy, you won't be wasting too much time or money on a new campaign. You can begin launching your podcasts and measuring your return on investment quickly, without having to convince your shareholders to give you the go-ahead.
With 100% free podcast hosting, you can focus on putting your budget into the areas that matter most, like promotion and production of your new immersive podcast. Other top reasons why we love Podcasts.com include:
Unlimited everything: Podcasts.com offers all of the tools that you need to get started in today's world of audio, without any unnecessary limits. While many companies are forced to compromise based on their budget when it comes to things like storage space and bandwidth, you get unlimited access to these things for free with Podcasts.com. There's nothing to stop you from creating the podcasts that are best for your company. 
SEO optimized directory listing: Your podcast is always ready to compete in the search engine result pages when its hosted by Podcasts.com. This means that you can improve your chances of gathering more organic traffic to your content. Although you'll still need to find other ways to promote your material, such as via social media and paid advertising, the SEO features are a great initial boost. 
Easy iTunes integration: Is there any podcast playing platform with more reach than iTunes? Finding the right podcast host means choosing something that works seamlessly with the download services your customers use. Podcasts.com automatically generates RSS feeds that you can copy and paste into iTunes. This means that you'll have no trouble reaching the largest possible audience.
Automatic subscriber updates: Whenever you release a new episode, you can rest assured that your customers will be informed. The Podcasts.com technology automatically alerts all of the subscribers in your community on your behalf with a link that allows them to listen to the episode immediately. 
Easy to use: Podcasts.com is designed to appeal to a wide range of different companies. Whether you're new to podcasting or you've been experimenting with this kind of marketing strategy for a while, Podcasts.com will help you to get the most out of your investments, without any complicated technology. 
Google analytics integration: Making the most out of your podcasts also means knowing how to track and evaluate your performance. Fortunately, Podcasts.com comes pre-integrated with Google Analytics, so you can track the performance of every publication, without having to worry about downloading additional tools. 
Downloadable app: Make it easier for your customers to connect with your content. Podcasts.com comes with a downloadable web player available for iOS and Android, so anyone can tune in at any time. There's even an easy-to-use search function to help more users find your material too. 
Already, Podcasts.com supports hundreds of thousands of different recordings, all designed to appeal to a specific audience from unique industries and niches. With this state-of-the-art tool, today's brands can reach a wider audience with a 100% free service that isn't going to harm their business budget.
Making the Most of your Podcast Hosting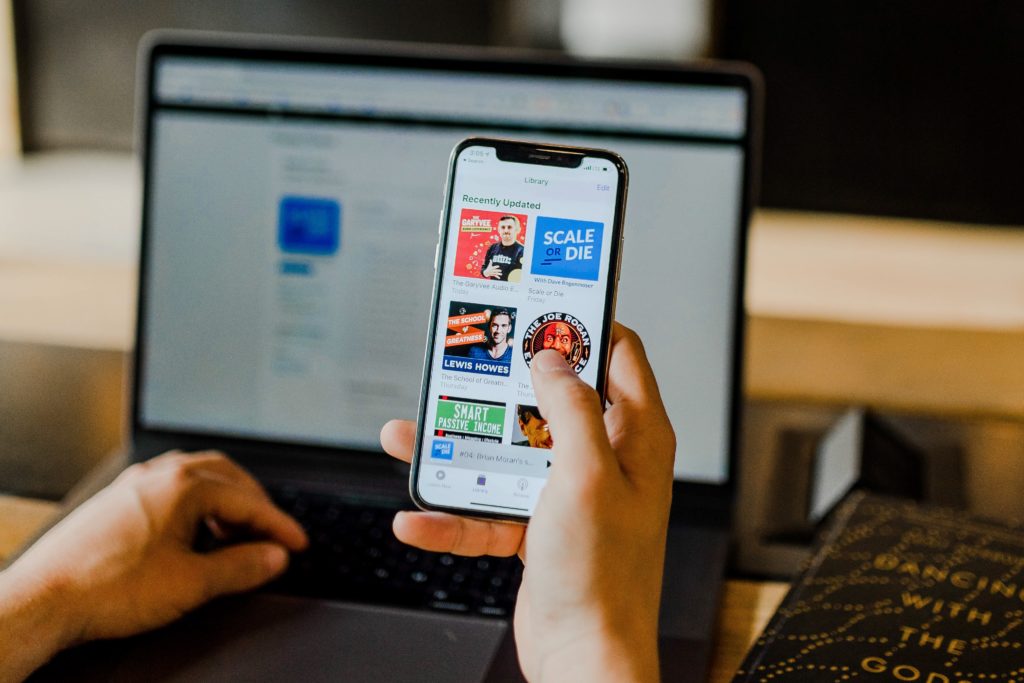 Once you've chosen the right podcast hosting platform, like Podcasts.com, and you know you have access to all the customer support, bandwidth and advanced features that you need, you can begin to think about other ways of making the most of your podcast hosting.
For instance, you'll also need the right podcast publishing platforms to get your material out to your audience too. We already mentioned above that Podcasts.com offers automatic RSS feeds for iTunes, which is the biggest podcast publishing platform in the world today. Remember, you'll need an active Apple ID to submit podcasts to the Apple directory. However, once you have the right accounts set up, all you need to do is take the RSS feed generated by Podcasts.com and copy it into the provided text box at the top left of the iTunes Connect dashboard. 
Aside from iTunes, you may also want to publish your hosted content on a few other platforms too, such as:
Google Play: Here, you'll need a Google account to start publishing your material. Make sure you review and accept the terms of service before you begin uploading. Once again, you can enter the copied RSS feed from your podcast host to publish here. 
Stitcher: This is another common and popular option for Podcast publishing today. You'll need to apply for an account with the company and have your application approved before you can start entering your RSS feeds, however. 
Tunein: Like Stitcher, Tunein requires you to complete the Tunein submission form to get started and accept a range of terms and conditions. However, the process of signing up is relatively straightforward. 
That's a Wrap!
So there you have it, everything you need to know about finding podcast hosting solutions for your business. In a world where podcasting is becoming an increasingly valuable way to capture audience attention wherever your customers might be, you can't afford to underestimate the value of the right service.
A strong podcast hosting solution will give you everything you need to not only host your content but also share that material with your audience in an engaging and reliable way. What's more, since many solutions come with access to a free trial, you might be able to check the quality of the hosting solution you like before you invest.
What podcast hosting service do you use? Let us know in the comments below or join the conversation on social media.