There are over 2,000,000 podcasts with 40 million episodes right now all over the world. Getting booked on podcasts can definitely be a marketing game-changer. When you are interviewed on other podcasts, you have a massive potential to grow your audience. However, getting booked for podcasts isn't as easy as it seems. To help you overcome this PR obstacle we decided to share a few tips to help you book more podcasting guest opportunities faster and more efficiently than ever.
Let's get to it!
Researching Podcast Booking Opportunities 
The first step to systemizing anything is to do your research. We're not talking about any old research. Instead, we'll walk you through the process of strategically researching and documenting podcast booking opportunities. These full-proof approaches will help you create a well-oiled podcast PR machine. Here's how to get started on the right foot.

Because… No one likes rework, right? Right!
Podcast Booking Research and Planning
To be documenting guest podcasting opportunities pick a tool that you're most comfortable with. We love spreadsheets however you other tools you can use include:
Airtable
Excel
Asana
Trello
In general, we like to start with a spreadsheet as it can be exported into many different formats and also imported into any third-party tools. Especially, outreach tools like Mailshake or even simply mail merge extensions or add-ons. The key to documenting this process is to provide context for your outreach as well as build momentum along the way. Let me explain further.
As you document your research you'll need some contextual variables in place regardless of the tool you are using. Let's imagine for a second that you are documenting research using a simple spreadsheet. Apart from collecting the podcast name and contact info, you should also consider the order in which you will approach podcast hosts.
This tip is particularly useful for companies or influencers that do not have much clout on the internet yet. Though, it's also useful for outreach managers who want to successfully book calls faster.
In your universe of data fields consider a simple assessment scale. For example, you can create a simple scale of 1 – 3. In which you'll rate opportunities based on the phase you are in.
Simple Assessment Scale
1 – Podcasts that are most likely to agree to your pitch in the next 30 days
2 – Podcasts that are most likely to agree to your pitch in the next 60 days
3 – Podcasts that are most likely to agree to your pitch in the next 90 days
This variable will allow you to reach out to podcasters more efficiently by simply increasing your outreach conversion rates. You might be wondering how to determine who is most likely to agree to your pitch. Let's discuss the thought process for a minute. 
When formulating an outreach strategy that builds momentum take a moment to honestly determine your current position in the market. Asks questions like:
Who are your competitors (Top – Middle – Bottom)
In comparison to your competitors where would you place yourself or your business
What can you leverage to increase the likelihood of booking opportunities? (audience size, reputation, connections, etc.)
Answering these questions will help you determine who is most likely to initially agree to your pitch. Remember this is simply an example of strategic outreach. Adjust your strategy and decision-making process based on how your current situation. 
Apart from developing a simple assessment scale. Other important things to consider documenting are details that will make the outreach process more efficient. For example, documenting things like
Podcast descriptions
Common experiences or specific episode references to break the ice
Podcast host LinkedIn profile
The key is to think about how you will initiate conversations, then determine the pieces of information you'll need to successfully execute outreach. Of course, meta details are important. Though, successful outreach campaigns cannot be executed without being able to reach decision-makers. Let's quickly discuss the importance of getting the right contact information.
Finding the Right Contact Info
Oftentimes outreach campaigns are executed with generic list details. It's no secret that you can buy almost anything online. This includes niche outreach lists. In most cases, these pre-built lists will have very generic information. Like support emails or helpdesk emails. Instead, think about how to can get in touch with actual decisions makers. In some cases, you might target the actual podcast host in other cases it might be an inquiry to the podcast's marketing manager. Keep in mind that your goal is to get booked on a podcast. Selecting the right contact information is crucial to success. Answer the following questions to determine the best possible contact.
What are some common titles for marketing decision-makers in my niche?
Will you be reaching out to podcasters via email only?
Do you plan on connecting to podcasters via LinkedIn or Instagram?
After answering these questions you'll have a better idea of what type of contact information you'll need to collect. This is very important because you do not want to start the research process and then have to go back to find these details later.
Why waste time when you don't have to?
Now that you understand that you understand the general process of building a podcast booking engine let's talk about how you can find podcasts.
Finding Podcast Booking Opportunities
We always say you can find anything on the Internet. In the case of podcasts, it's actually true since the entire concept of a podcast began on the internet. Below we've listed different ways to find booking podcast promotional opportunities.
Googling Top Podcasts
Looking out for podcasts related to mental health, entrepreneurship, or motivation? The best way to find your first potential podcast list is to do a quick google search! 
Use terms like "entrepreneur podcast," "motivational podcast," "mental health podcast," "travel podcast," and many more to explore a wide range of podcasts that may be looking for different guest speakers just like you!
Searching Apple Podcasts
There are multiple podcast directories such as Apple Podcasts, Spotify, Google Play Music, Stitcher, and many more amazing platforms to look out for the trending podcasts in your industry. 
You can either search manually by typing in your niche or lookout for the "Trending" or "Top podcasts" and other categories of podcasts within the platform to find your best matches.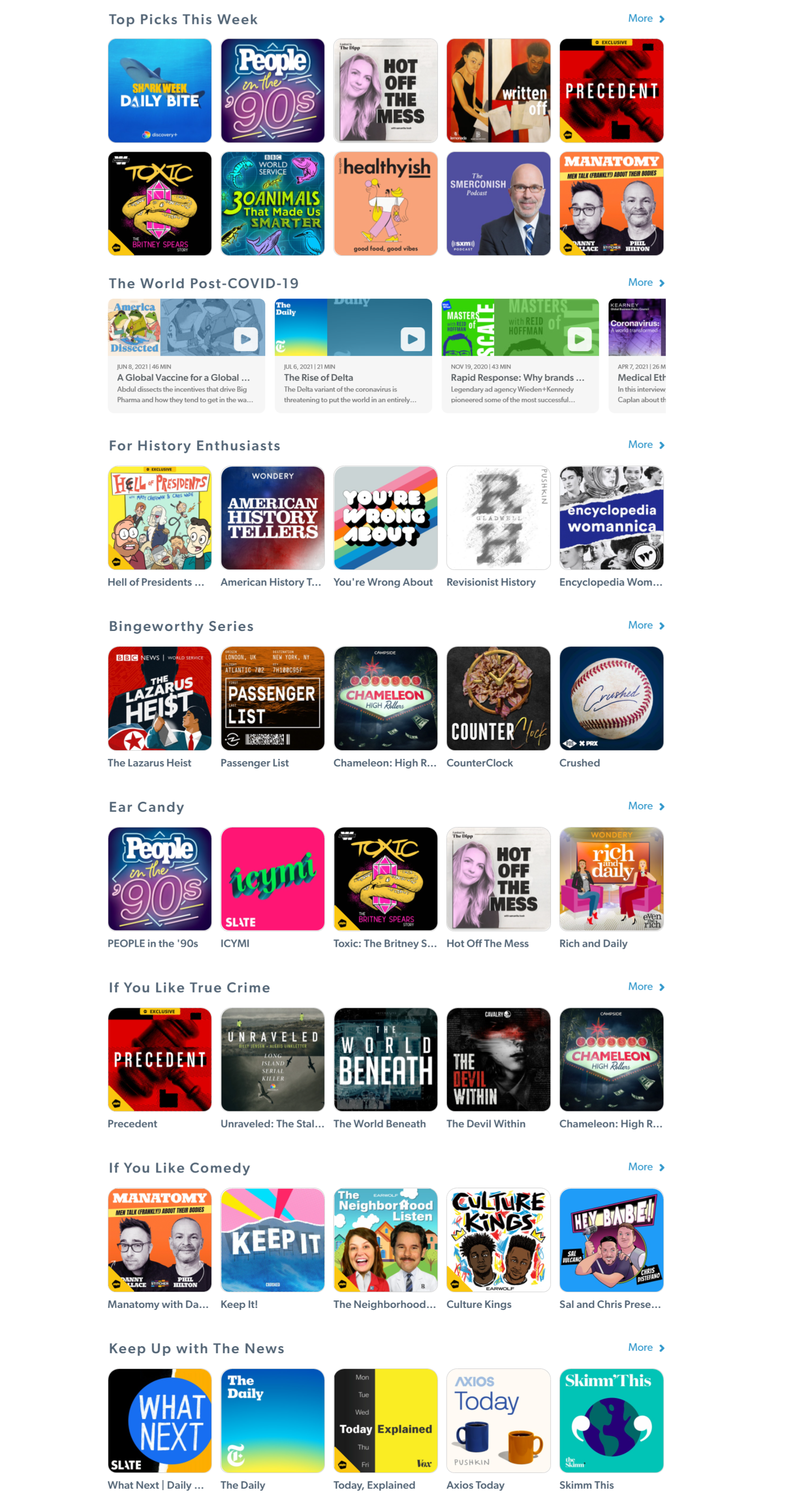 Podcast Booking Services
For additional help, here are a few podcast booking services that can assist you with the outreach process.
Podcast Guests
PodcastGuests.com is an excellent site that links up potential podcast guests and interviewers together under a single platform.
You need to mention the niche and the type of podcast hosts you are looking for, and you will receive a complete list of potential podcast owners who could be interested in booking you as their guests.
Features:
Get listed on relevant categories to find the best opportunities
Send and receive messages from multiple podcast hosts
Have your profile featured in the rotating newsletter to over 30,000 subscribers
Cost: Starts at just $10/month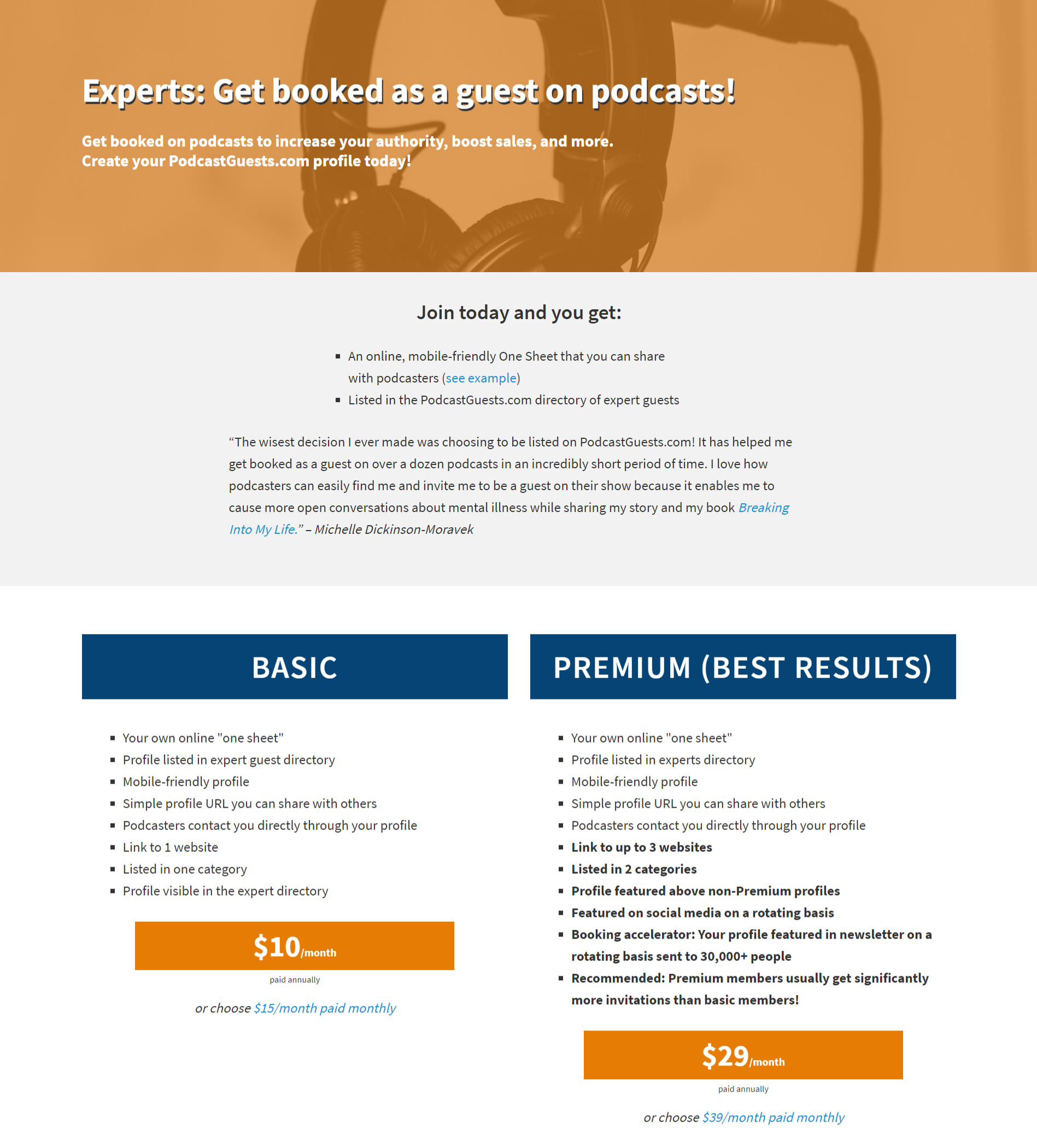 This will significantly increase your chances of pairing up with the right podcasts and quickly get booked as a podcast guest!
PodMatch
With PodMatch, you need not browse multiple profiles to find suitable profiles. PodMatch uses A.I. to match with your ideal prospects automatically to get booked as a podcast guest effortlessly!
Once you create the account, set up your profile, and list out your interests, PodMatch will display a list of ideal matches based on your choices. 
Find the most suitable out of all and use the in-built messaging feature to pitch and schedule your interviews.
Features: 
Public profile pages to find the best hosts in your niche

Automatic matching with the most compatible profiles

Inbuilt messaging to schedule interviews directly in PodMatch.
Cost: Free with an optional Professional plan upgrade for $34/month.

Podchaser Connect
Apart from podcast booking services, Podchaser is an all-rounder platform for the podcasters out there. The features are focused on connecting experts and podcasts to create interactive content and grow the audience.
The platform is filled with many exciting podcasts for listeners, and you can list your podcasts in one of them too!
You need to create your profile, link your profile to every show or episode you have been involved with beforehand, and you will find many potential podcasts that are looking for podcast guests just like you!
Features: 
Data-driven matching between podcasters and potential guests 

Audience analytics and feedback

Customized profiles
Cost: Free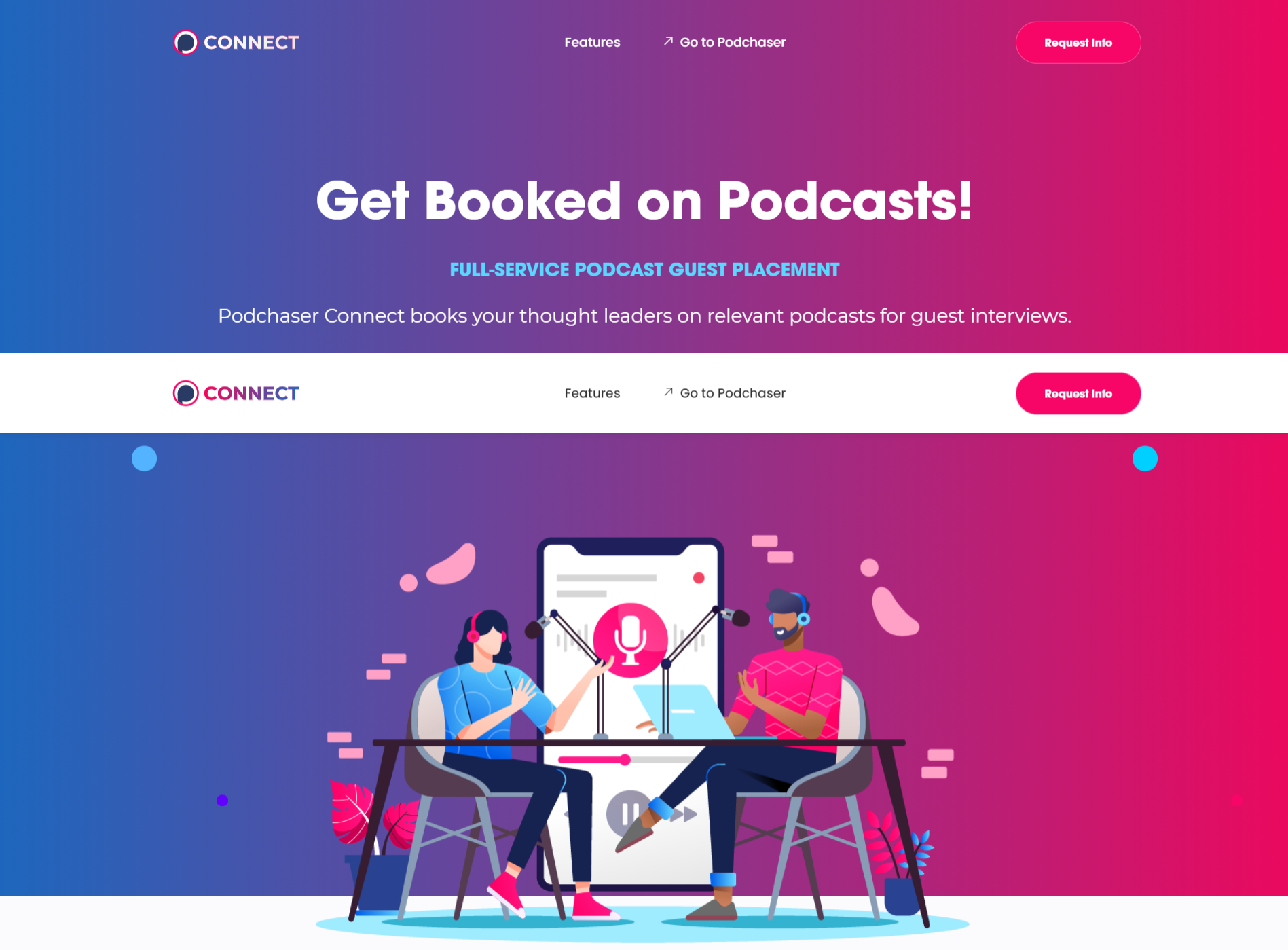 Podcast Bookers
Podcast Bookers are popular for booking podcast interviews for various authors, business owners, startups, influencers, entrepreneurs, etc., with a story to tell. The best part about this Podcast booking service is that it guarantees a certain amount of bookings for you every month, which will ensure that you get booked as podcast guests non-stop!
Features: 
Two- four guaranteed bookings every month

Your personalized booking agent

Handles every research, scheduling, and pitching for you
Cost: Starting at $550/month.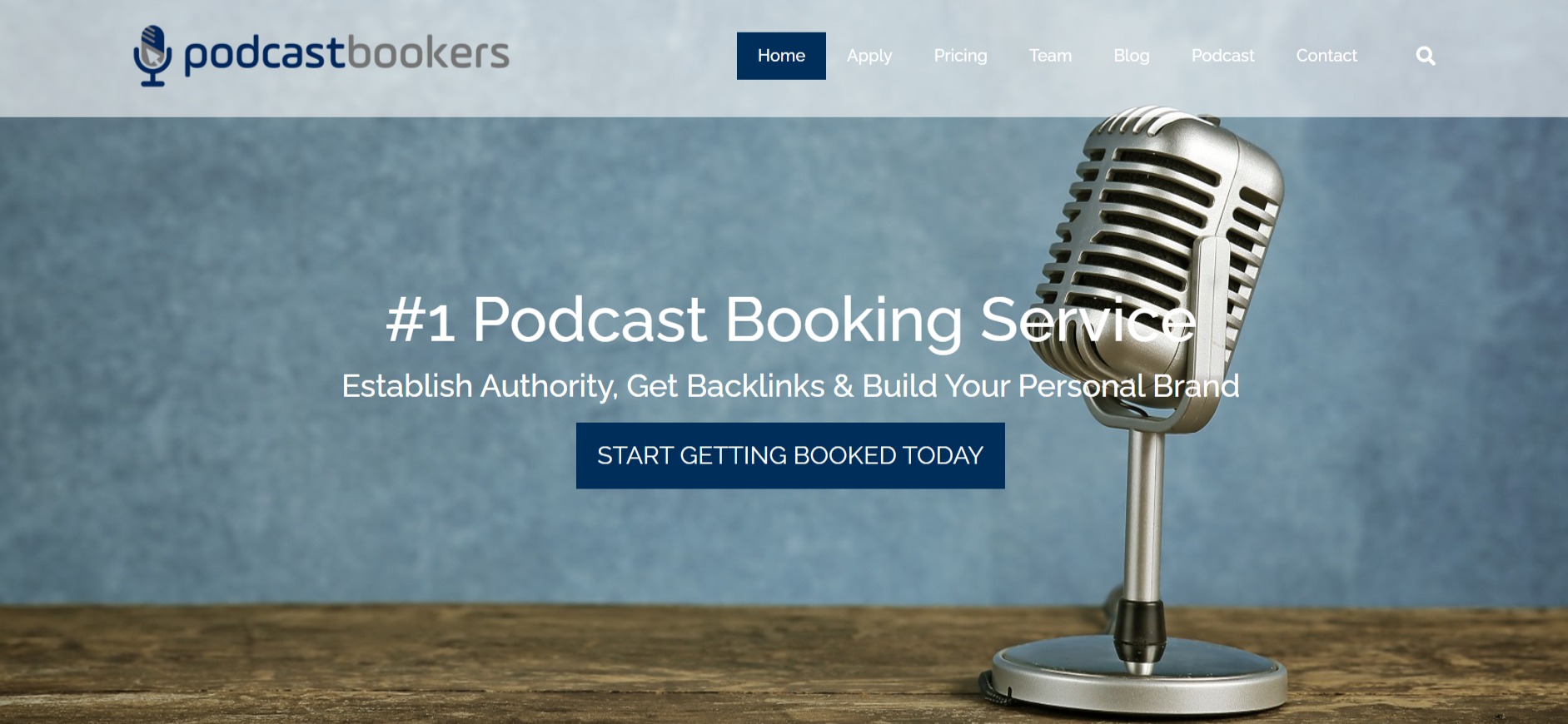 Poddit
Poddit is another very effective platform to create your profile and search for multiple interviewers who can book you as a guest on their shows. You can create a podcast profile and an individual guest profile to maximize your chances.
Features:
Free podcast profile

Free guest profile

Reach targeted audience easily and acquire new listeners
Cost: Free with an optional $29/month upgrade for better exposure

Using LinkedIn
LinkedIn is another powerful yet simple platform to find different users who either own a podcast or have been featured in multiple podcasts.
Just use the search box as you do for every LinkedIn search and lookout for people who have "podcasts" in their profiles. Preferably filter them out based on the degree of connection to find more people within your existing network.
If you find any profiles worth your time and efforts, send them a connection request with a personalized message to have better chances of approval. 
Also, have an amiable conversation instead of jumping directly into getting booked on their podcast. Similarly, if they are active on other social media profiles, follow them and engage with their content to gradually build the relationship.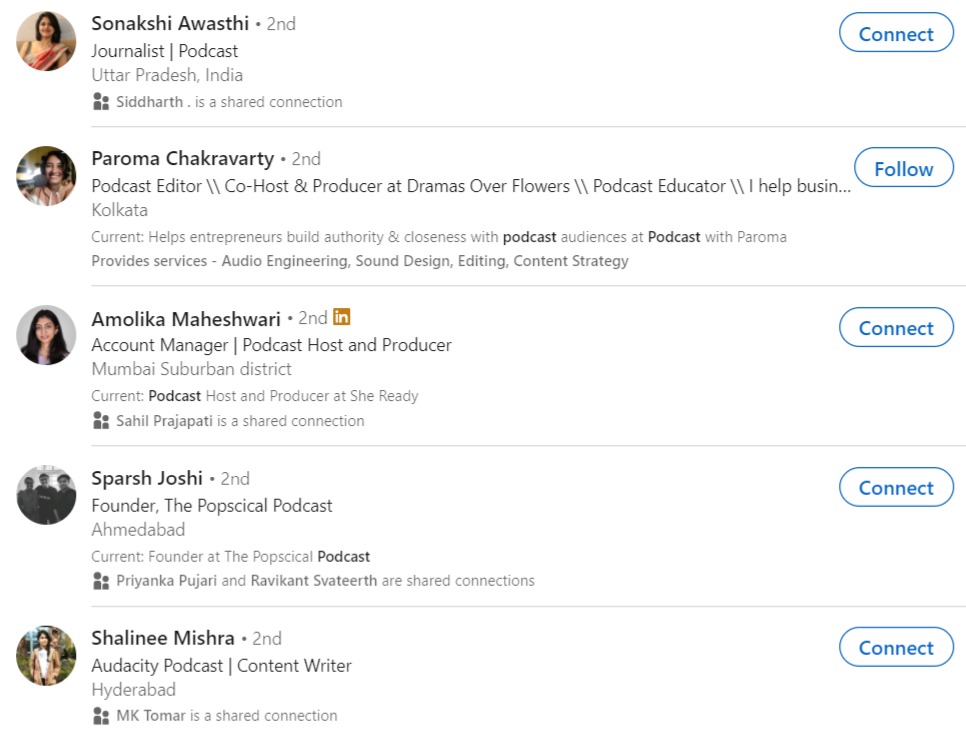 Using Facebook Groups
Facebook is the hub of connecting people and is a perfect space for podcast owners looking for guests on their shows.
The best way to leverage the massive potential of Facebook is by joining multiple Facebook groups which are dedicated to podcasts, finding guest speakers, etc. Join them and use your networking skills to build genuine connections with the prospects. 
Again, be very interactive, have a genuine approach while pitching, and gradually build the relationship over time.
Using Reddit
Like Facebook and LinkedIn, Reddit is another great platform to find opportunities as a guest on podcasts. If you are new to the platform, take some time to build your profile and be socially active. Comment on threads, provide value to other users, and you will land on your first podcast guest opportunity real quick!
BuzzSumo Keyword Search
Buzzsumo is one of the leading content marketing tools that will help you find the most trending and popular content across the web along with the top influencers in the same industry.
To generate a list of potential shows that might be looking for guests, you just need to add your industry keyword + podcast in the search box, and you will find a long list of backlinks, articles, and influencers.
You can also filter across various platforms and find narrowed results such as influencers only from Twitter or Youtube.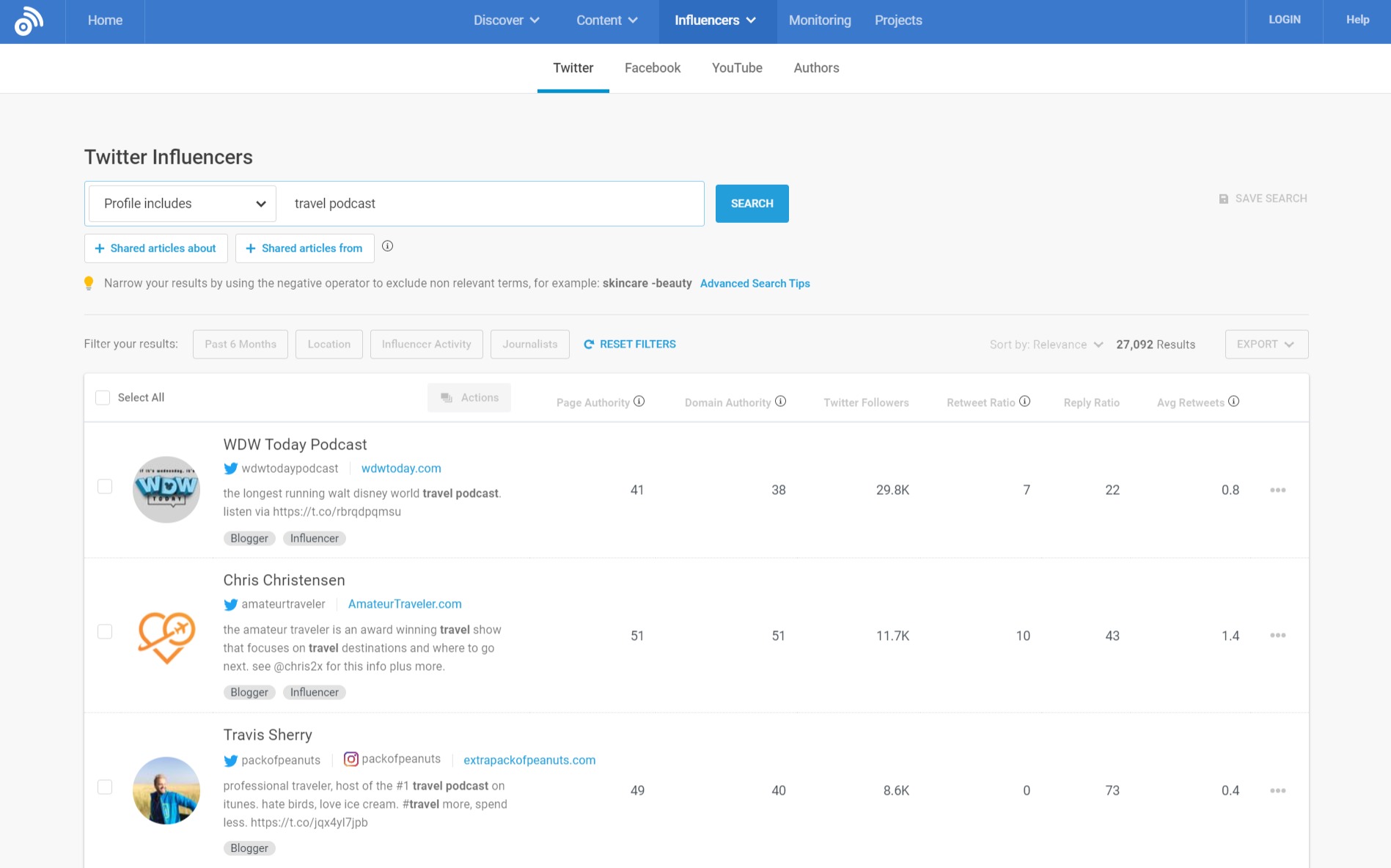 Look out for big names and websites with high authority and add them to your list of potential podcasts. This will help you find the best in the industry, which will be an excellent advantage for your show as well.
Developing Your Podcast Booking Pitch
When you have your list of prospect podcasts and shows ready, it is time to finally make your guest pitch! Your pitch is the game-changer in the entire strategy and can make or break your entire efforts of curating the list of podcasts for hours. Hence, here's how you can ace your guest pitch and get a final confirmation of your booking!
Crafting a Strong Subject Line
Believe it or not. Your email subject line is the most crucial aspect of your pitch apart from the email content, which we will also discuss further. You can either get into the spam folder or get booked as a guest based on your subject line!
For best results, create a very concise email subject line explaining the details in short. Mobile devices only show the first 25-30 characters of the subject at a time. In the simplest terms, it should be a phrase with a complete summary of the topic you want to discuss.
For example,
Podcast Guest Pitch: How I became a self-made millionaire at 21!
Crafting a Compelling Message
Now when you have figured out the subject of your email, let's check out how you can create a compelling pitch to get booked as a podcast guest.
Provide context
Most people will jump right to the pitch of getting booked as a podcast guest in the first line, which is a pathetic strategy! To establish a meaningful conversation and ensure that you are not just spamming them, start by answering a few questions.
How did you get to know about them?

Have you heard any of their podcasts? List some of your favorites.

What do you like the most about their podcasts?
These few sentences will create a positive impact right when the podcast host starts reading the email. 
Get to the point
Once you have established some context, go straight to the point of the email, i.e., your real pitch!
For example,
"I've noticed that you haven't talked about (insert your expertise here) in any episodes yet.  I'd love to share my knowledge and experience on your show! In exchange, I will also share the episode with my email list of 15,000 monthly readers.  To sweeten the collab I'm also happy to discuss a potential giveaway as well. Let me know your thoughts on this."
Ensure that you are not just boasting about your knowledge but also adding value to the other podcast host. You need to clearly mention how they will benefit from booking you as a guest in their show. Mention your audience base and tell them that you will promote the guest appearance on your podcast, email list, and every social media platform to drive the audience to their podcast as well. 
Validate your pitch
Lastly, you can't just speak about your expertise without showing any proof of it to the podcast host and expect to get booked. Hence, attach some links to your previous interviews, press, or media kit the dispels any possible objections. Remember, the goal is to showcase how you add value to the podcaster's audience. 
How to Be a Great Podcast Guest
Now when you finally know how to get booked as a guest on a podcast, it is fine to gear up for your first podcast! A good podcast guest comes well prepared and delivers the best content to the listeners. Let's check out how you can make the best out of your first guest presence on a podcast.
Have the right equipment
Be prepared beforehand with all your equipment like headphones, mic, etc. It is preferable that you choose an external mic for recording your podcast sessions instead of using the one that comes with your speaker for better quality audio delivery. 
Listen to other relevant podcasts.
If you can relate to the fans and the host of the show featuring you, you will indeed get a better lead here. Listen to a few podcasts of yours prior to recording the final one to keep the conversation authentic and interactive.
Offer freebies
If you want to drive their audience to your podcast, a powerful call to action at the end of the episode is an absolute necessity! A CTA like a free ebook or guide can persuade the audience into following your social media handles, visit your website, or even subscribe to your podcast real quick.
Pro Tips From Podcast Guests
With the help of multiple popular podcasters, we have accumulated a few points which will give you an additional edge during your podcast guest speaking opportunity search and will help you get booked on podcasts seamlessly! Let's check them out. 
Hone your messaging skills:

Whenever you make your pitch to a podcast host, ensure that it is completely relevant to their niche and audience. Preferably offer them exclusive goodies, freebies, and discount codes which you can later track via a unique URL to get more insights.

Engagement is the key:

Whenever your podcast guest interview is live and promoted in their social media handles, ensure to interact with their audience by replying to the comments and engaging in some quick conversations with their audience.

Practice a lot:

If you are a newbie to such guest appearances, leverage the lower-level podcasts into acquiring experience and get better gradually!

Promote your episodes:

Even though it is a no-brainer, you need to constantly promote every podcast appearance on every platform and tag the host to broaden your reach even further!
Final Thoughts
Now when you know the secret trick of getting booked as a podcast guest, you need to ensure that you deliver the best quality with no compromise! Also, even if you pitch to every podcast host on your list, you might hear back from only a handful of them which is completely normal. However, over time, you will gradually ace the skill of acquiring more guest appearances and slay every episode like a pro!