What is podcast transcription?
Ever wonder how to transcribe a podcast quickly and easily? Why is it important? Transcribing your podcast can provide significant online visibility benefits for individuals and companies alike. This makes your content indexable by search engines (ie Google, Bing, Yahoo). Transcription can be done manually (time-consuming) or automatically with services.
Why is it important to transcribe your podcast?
SEO – If you have a site dedicated to your podcast it can help with SEO purposes. It allows search engines to index the content of your podcasts, increasing your chances of getting them found via search.
Reference Points – Transcripts often act as reference points. Having a podcast transcribed will also give the viewers the opportunity to search, scan and print information. Makes referencing and backlinking easy. Adding links to particular parts of your content/site is a lot easier in text format than audio.
Reading Vs. Listening – some people want to read rather than listen. For example, they may be at a work setting where having headphones in your ears isn't ideal. Some people don't want to listen and would rather read. It's nothing that's going to blow up your podcasts, but people will appreciate it.
Repurpose content – Also, it makes it easier to repurpose the content. You can send it to your email list and give them a snippet and the CTA is to listen or leave a review. You can also create separate articles and add further precise info on it.
The easiest way to create a book or ebook – Turn your podcasts into text and sell them as e-books. If you have dependable information, it is a wonderful way to make some extra cash.
Accessibility 

For (some) nonprofit and government podcasts, we have ADA Section 508 compliance requirements. The law says "A text equivalent for every non-text element shall be provided …" https://www.digitalgov.gov/…/making-multimedia-section…/
Deaf and hearing-impaired individuals can enjoy greater access to information when a podcast transcript is available alongside the original podcast.
People whose first language is not English and may have trouble following along.
People with ADD who struggle to focus on audio stimulus.
Where to get your podcast transcribed? 
Official Site: Rev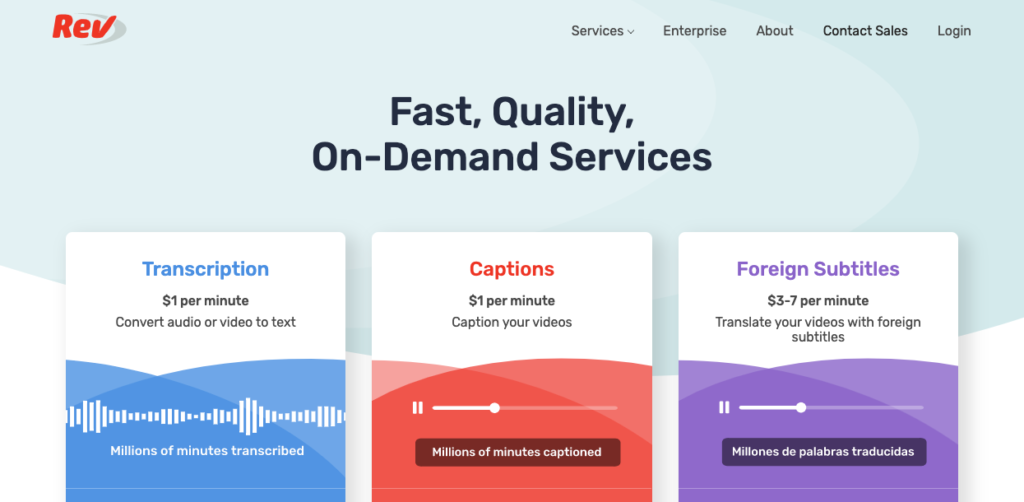 Price: $1/min
Rev is a professional transcription, caption, subtitle, and translation service. The company is a venture-backed internet startup and was founded in 2010. Formerly branded as FoxTranscribe and FoxTranslate.
Official Site: Trint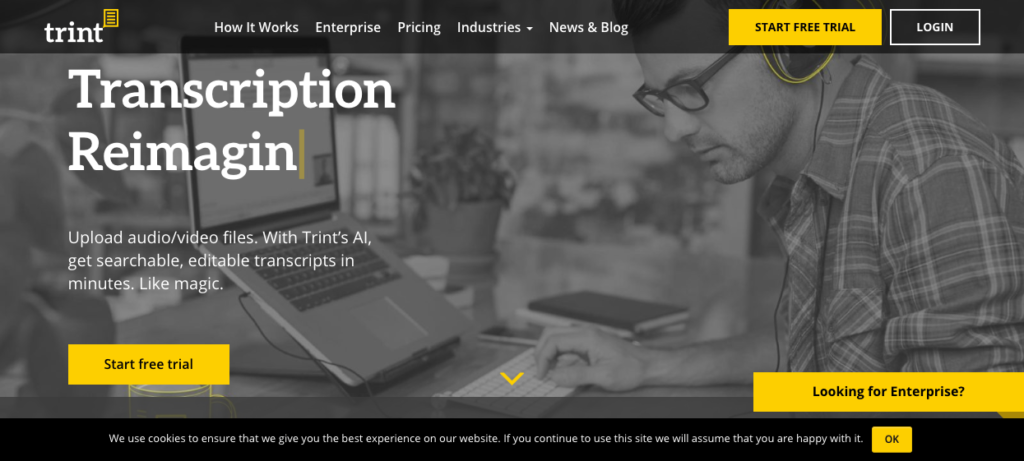 Price: Various plans starting at $48/month (30 mins free trial, individual plans, team plans, custom plans)
Trint has been the fastest, easiest and cheapest way to create transcriptions. The turnaround speed is incredible and the quality of the transcription is excellent. Add the editing features which combine text and audio and you have a unique service that delivers tremendous value.
Official Site: Auphonic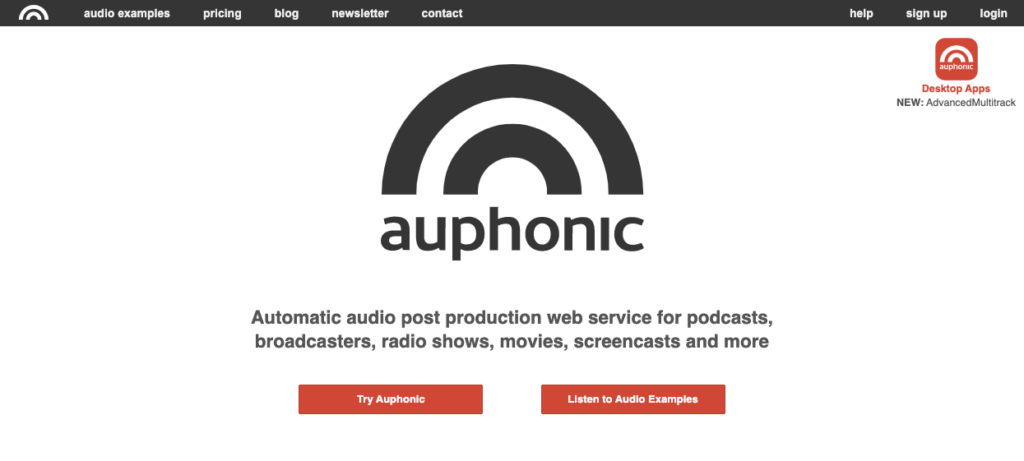 Price: $0 (2 hours/month free version, recurring monthly plans start at $12/month, one time credits)
Auphonic is an automatic audio post production web service for podcasts, broadcasters, radio shows, movies, screencasts and more. Auphonic has built a layer on top of a few external speech recognition services: 
Their classifiers generate metadata during the analysis of an audio signal (music segments, silence, multiple speakers, etc.) to divide the audio file into small and meaningful segments, which are sent to the speech recognition engine afterward. 
The external speech services support multiple languages and return text results for all audio segments. 
Official Site: Scribie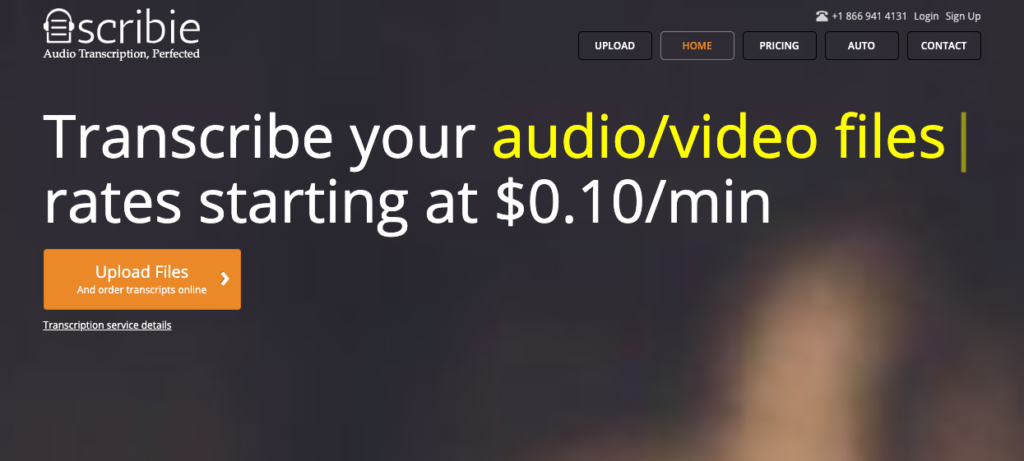 Price: $0.10/min (price depends on turnaround time)
Scribie offers a lot of various features, unique tools and a one of a kind experience. There are a lot of top transcription services out there, but with Scribie, you are getting the best.
Official Site: GoTranscript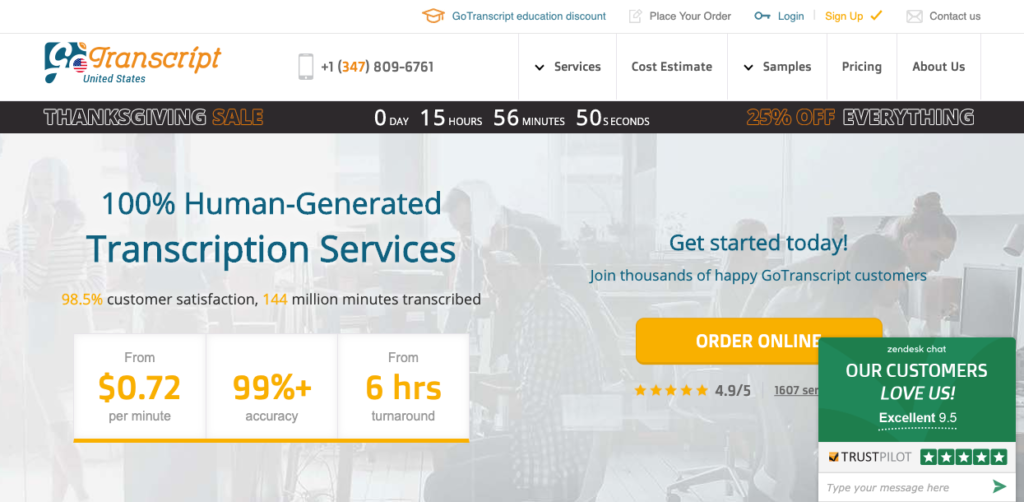 Price: $0.72 per minute (price depends on turnaround time, loyalty program)
GoTranscript provides audio to text services, digital audio transcription, MP3 to text. This is one of the best audio transcription services based on quality, turnaround time and price. It provides high-quality transcripts at a very reasonable and affordable price. It also gives very good turnaround times of under six hours, which means you get your work done not only well but also in a timely manner. Try it out and you'll never be disappointed at all.
Official Site: BlogTalkRadio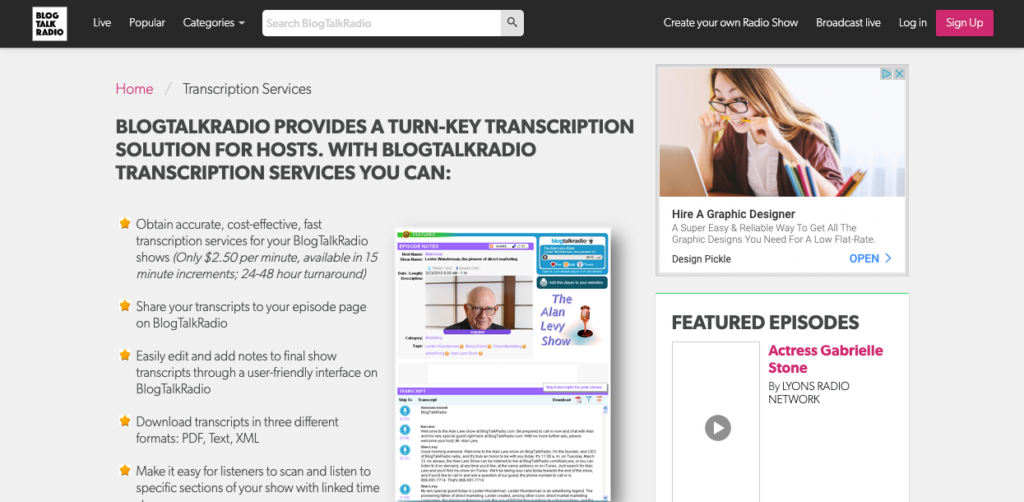 Price: $2.50 per minute
BLOGTALKRADIO provides a turn-key transcription solution for hosts that can obtain accurate, cost-effective, fast transcription services for your BlogTalkRadio shows.
Official Site: Nibity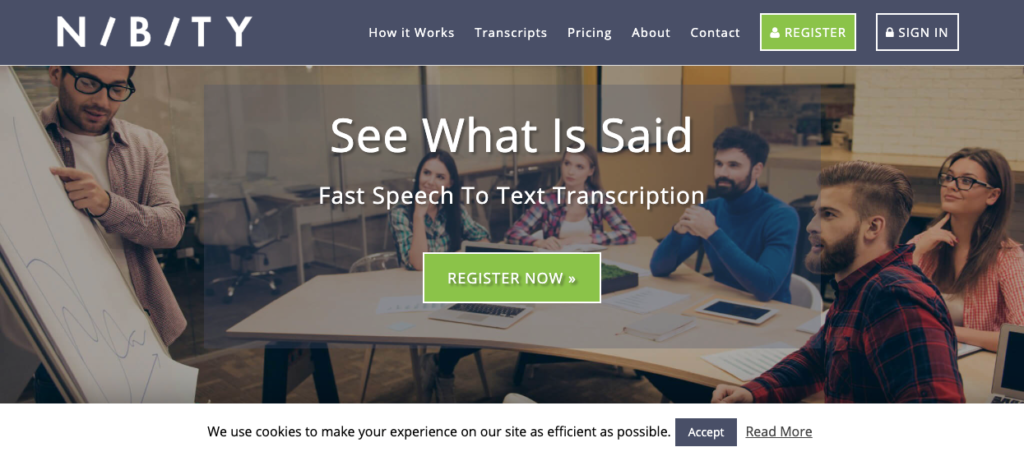 Price: $1.25/min
Nibity gives you back your time! Nibity is a simple drop and go transcription solution to convert your audio or video to text. Once your transcript is completed, you receive an email notification, log into your account and collect your transcript.
Official Site: Transcribeme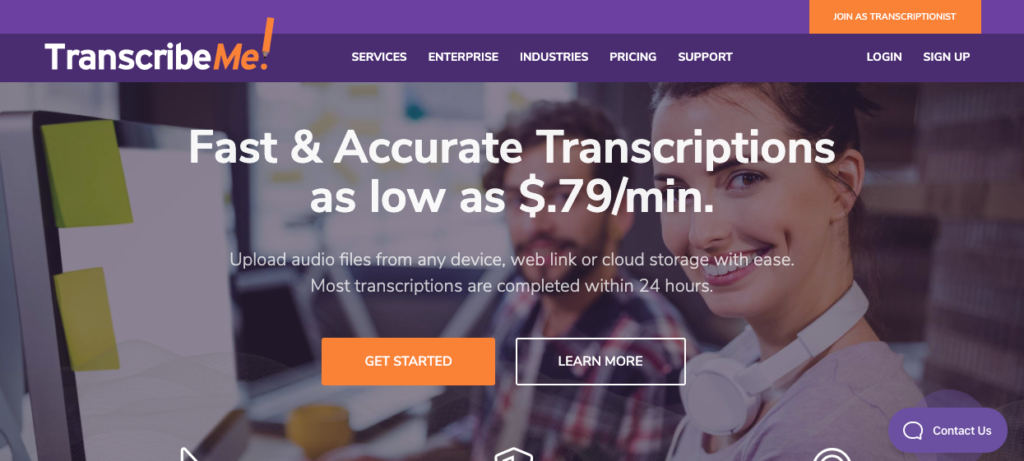 Price: $0.79 /minute (price may differ on what you input on their submission form)
Straightforward, flexible and always budget-friendly. Turnaround speed is fast and the process to upload files is very simple. Very responsive.
Official Site: Audiotranscription.org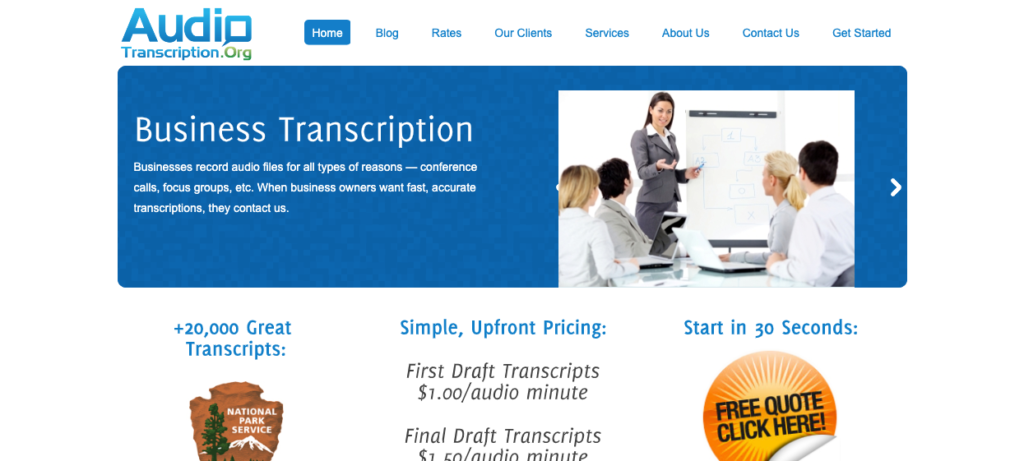 Price: $1.00/min (first draft transcripts, final draft transcripts)
AudioTranscription.Org is a premier transcription service based in San Francisco, California, with hundreds of clients around the world. They offer everything from business transcription services to interview transcription. If you have audio or video transcription needs, they would have likely transcribed similar files in the past.
Official Site: CastingWords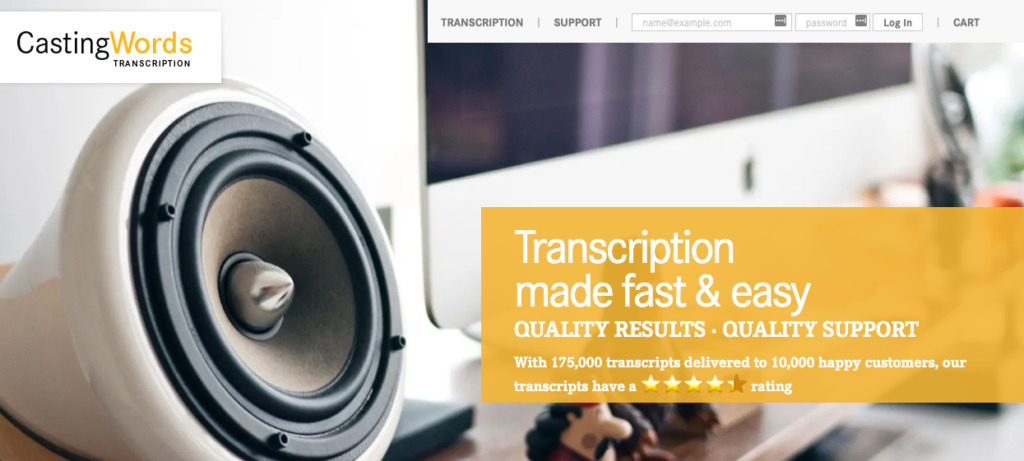 Price: $1.00/min (prices depend on turnaround time, international transcription, prices may differ on what you input on their submission form)
CastingWords is a technology-oriented transcription firm located in Los Alamos, New Mexico. Rachel Pearson and Nathan McFarland founded the company in November 2005 with the aim of connecting online workers with transcription work, and customers with excellent transcribers.
Official Site: SpeechPad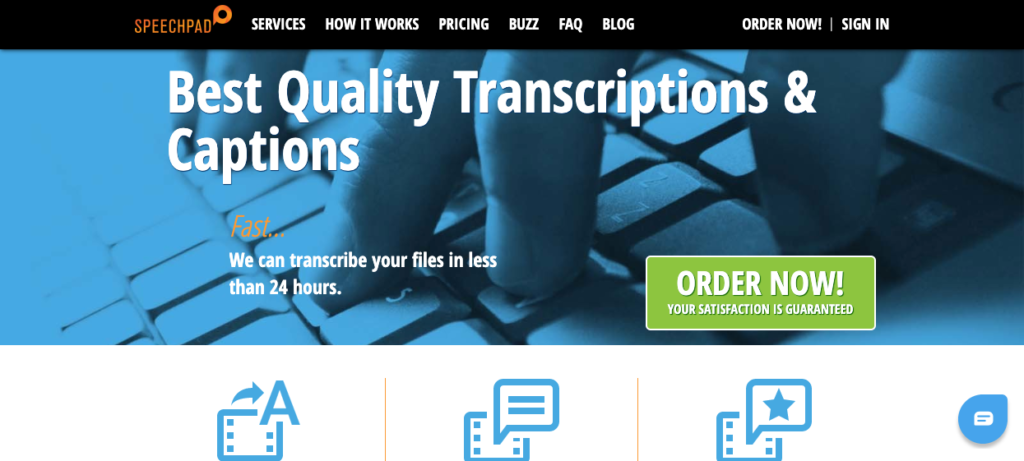 Price: $1.00/min (price depends on turnaround time)
Speechpad provides high-quality transcriptions and captions at competitive prices. Their international customer base ranges from Fortune 500 companies to boutique businesses and individuals. Since they began operations in 2008, they have always made customer satisfaction their top priority.
Software:
Official Site: Express Scribe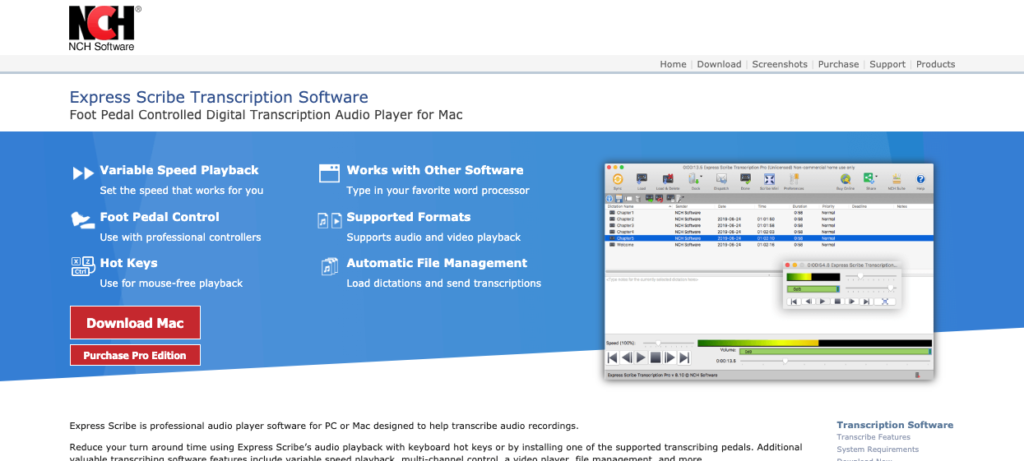 Price: Express Scribe Free $0 (Express Scribe Basic $49.99, Express Scribe Professional $59.95) Express Scribe is professional audio player software for PC or Mac designed to assist the transcription of audio recordings.
A typist can install it on their computer and control audio playback using a transcription foot pedal or keyboard (with 'hot' keys). This transcribing software also offers valuable features for typists including variable speed playback, multi-channel control, playing video, file management, and more.
Official Site: InqScribe
Price: Free $0 (Buy Individual License $99)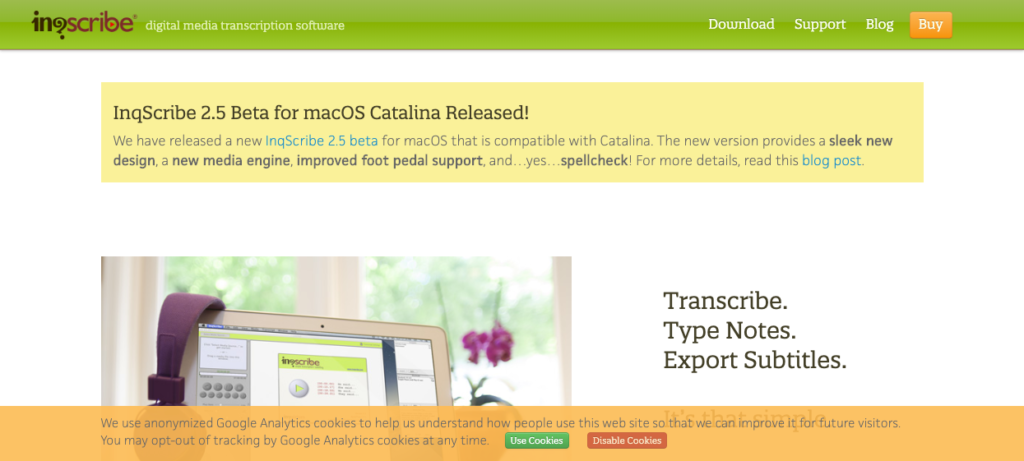 InqScribe is used by a wide range of professionals to transcribe, create subtitles, and help with many other tasks in their digital video and audio workflow. You transcribe directly into the provided window using media file playback. Its key features include shortcut keys to control playback, the ability to create macros ('snippets) and synchronization of the media files with the transcript.
What to watch out for?
Length – Should you do the transcription in summary or in full?
Accuracy – Check that it was done correctly? Some vendors are not as accurate. Was it done right?
Fit – Transcription is more important for information podcasts; some type of podcasts may not benefit as much from transcription.
Price – Is the transcription good enough for the price?
Show Notes: They are one and the same and your show notes, should contain enough contextual information for Google to index your site. For most podcasters, you should be writing for Google and understand how a good blog post can gain you listeners.