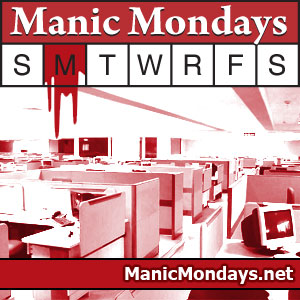 Manic Mondays
A weekly 15 to 20 minute podcast hosted by comedy-rapper Devo Spice. Each show features a few different comedy songs by a variety of artists, News of the Stupid, and other comedy segments.
Manic Mondays navigateright Episode
Manic Mondays Episode 597: Our Yearly Friend
Yes folks, it's "that time of the year" again! Our yearly month-long friend has almost arrived in his big red suit, so grab your heating pad and get the pain reliever and egg nog handy cuz this isn't Aunt Flo, it's Saint Ho Ho Ho! In this episode we celebrate the "season", get princess rap bitchy, and sound the horn to signal that cramp-us is about to set in! 1. ??The Season? by Mikey Mason 2. ??DOROTHY vs ALICE: Princess Rap Battle? by Whitney Avalon 3. News of the Stupid! 4. ??Beep Beep? by The Playmates Mikey Mason is at mikeymason.com Whitney Avalon is at whitneyavalon.com and The Playmates can be found on outlets like Amazon! Shout-outs to this week?s new backers on Patreon! - Sean Ennis! Thanks Sean!