The Beyond the Food Show | Women | Empowering | Overeating | Cravings | Health | Inspiration
Most women want to have a better relationship with food. Overeating, Emotional Eating, Cravings and Binging are real, and clearly, willpower and discipline are NOT working. Stephanie Dodier, Clinical Nutritionist, believes that to have food freedom we must go Beyond the Food and learn to have a relationship with our hunger to finally be at peace with food, eat normally without guilt or shame and end the vicious cycle of yo-yo dieting. In this podcast, Stephanie will help you discover a new approach to food, health, weight loss and happiness without using any diet, willpower or discipline.

The Beyond the Food Show is a holistic approach to health for women, personal development, personal growth, spirituality, coaching, education and self-mastery. Your host, Stephanie Dodier was there too. Stephanie ended the food cravings that were ruling her life for the last 20 years. At 34 years old, she was hospitalized, sick, depressed and hated her body. Today, she serves and inspires women to transform their own lives. More at https://www.stephaniedodier.com.
Related Podcasts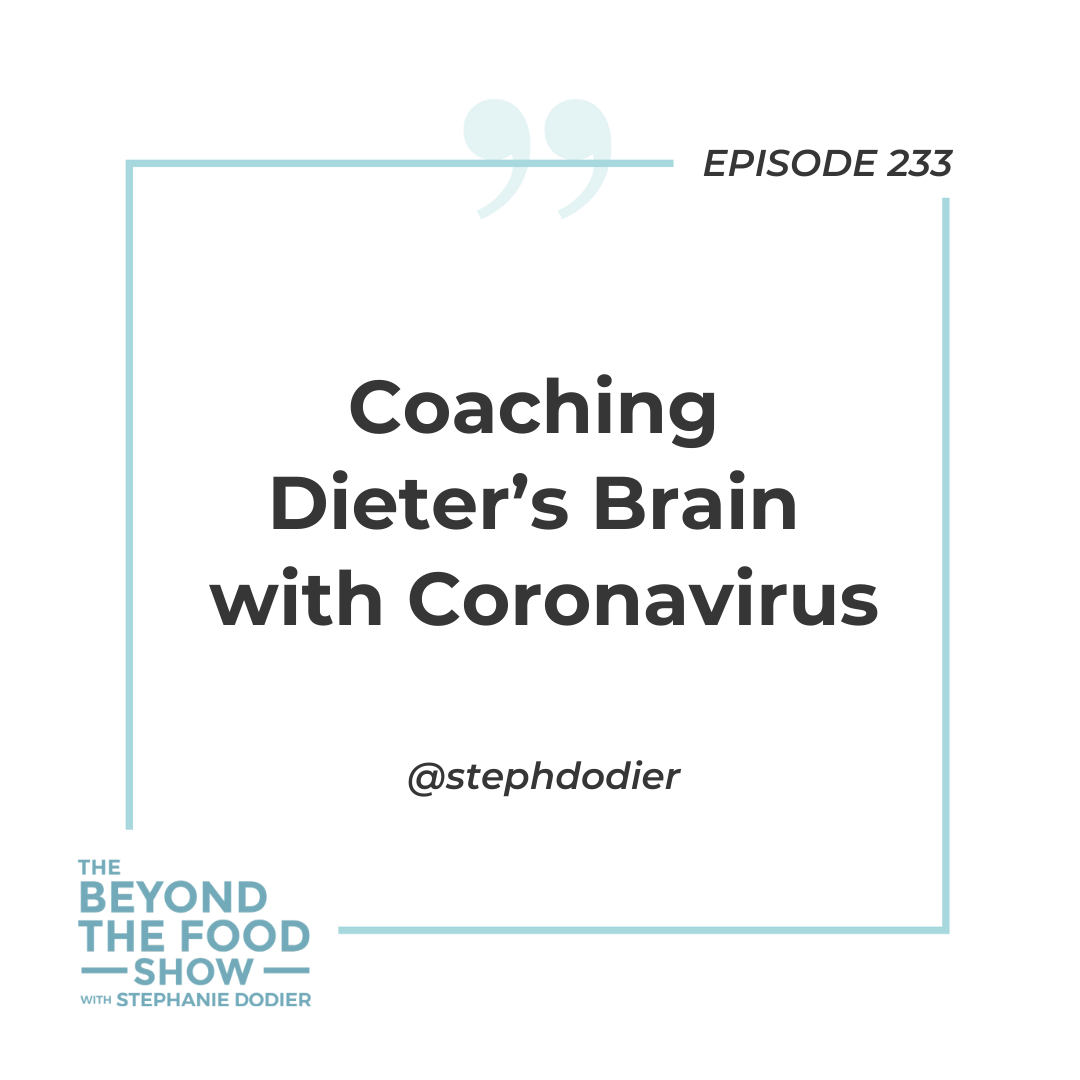 In today's episode, we'll learn how to manage your mind and emotions in time of the coronavirus
This is a very special episode of the podcast... for the first time ever I'm sharing the recording of a coaching call from the Going Beyond the Food Academy.
I've never done this before... these are special times with the coronavirus.
In this episode, you will learn how to manage your mind and emotions with COVID-19;
The Coronavirus is a neutral event….
The #1 thing you can do to remain calm
How to process your emotions with COVID-19
How to use the self-coaching model in the context of uncertainty
Why our old behaviors & thoughts resurface with uncertainty
If you only do one thing do this ONE
Mentioned on the show:
FREE Emergency resource
Canadian National Eating Disorder Information Center Hotline: 1-866-633-4220
USA National Eating Disorders Toll-Free Number: 1-800-931-2237
Free Download Podcast Roadmap Here
The Intuitive Eating Project  
Instructor lead program 
Support group with lifetime access 
Coupon for $50 off: PEACE50 until April 14th 2020. 
Register here: Join the Intuitive Eating Project